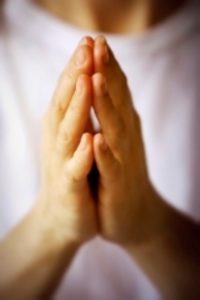 Proverbs 6, God describes seven sins He hates, starting at the top of the human body and moving down: haughty eyes, a lying tongue, hands that kill, a conniving heart, feet that rush into evil, a false witness who pours out lies, and a man who stirs up dissension.
Then in Ephesians 6:12-18, God provides a set of practical tools we can use to battle those seven sins, which include the helmet of salvation, the sword of the Spirit, the shield of faith, the breastplate of righteousness, shoes shod with peace, and the belt of truth.
Paul concludes his description of the armor with this urging: "And pray in the Spirit on all occasions with all kinds of prayers and requests. With this in mind, be alert and always keep on praying for all the saints" (Ephesians 6:18, NIV).
The connection between the final tool, prayer, and a man who stirs up discord is clear: both come from the mouth. Yet they produce altogether different results.
Stir Up Discord or Build Up the Saints?
"A man who stirs up dissension" speaks up not to state a difference of opinion, but rather to create division. His words intentionally sow conflict, cultivating and spreading disagreements.
Yet God can use that same mouth to bring blessing on others rather than cultivate strife … when that mouth is focused on praying for others.
Put Your Prayer On
A believer clothed in God's armor pulls his outfit together with the finishing touch of prayer. "Praying in the Spirit" – with the aid of the Holy Spirit – equips the armor-clad Christ-follower to use his words to build up other believers, rather than stir up dissension between them. When praying in the Spirit, it is impossible to sow discord among people.
Be aware that by guiding all you say and do through the filter of prayer, you may find those who oppose you. Yet that particular conflict is between the other person and God – not with you. The resulting discord stems from the rebellion in their hearts.
How to Pray to Build Up the Saints
Ephesians 6 answers basic questions about how to use this piece of gear: Who is praying? (you) For whom? (all the saints – all believers in Christ); What are you to do? (keep on praying); Where should you pray (in the presence of the Holy Spirit); When should you pray? (on all occasions); Why should you pray? (to stand against evil, verse 10); How should you pray? (persistently and watchfully – you're to be alert.)
When it comes to the content of your prayers for God's people, you can start with scriptures like these:
Pray for mercy: 2 Timothy 1:18a
Pray for wisdom and revelation: Ephesians 1:16-19
Pray for spiritual strength: Ephesians 3:14-19
Pray for purpose: 2 Thessalonians 1:11-12
Pray for growth: Philippians 1:4-6
Pray for discernment: Philippians 1:9-11
Pray for knowledge: Colossians 1:9-12
Pray for spiritual maturity: Colossians 4:12
When you "put your prayer on," you do more than simply avoid conflict. Rather than stir up others and create problems among Christ-followers, you build up your brothers and sisters … equipping them to do great things for the Kingdom.
More on Winning the Battle
Winning the Battle, Part 6: Don't Just Tell the Truth. Live It.
Winning the Battle, Part 5: Shoes – Slip Ons or Tie Ons?
Winning the Battle, Part 4: Don't Follow Your Heart. Really.
Winning the Battle, Part 3: Keep your Hands Full
Winning the Battle, Part 2: Do You Leave Your Mind Vulnerable?
Winning the Battle, Part 1: Get Your Gear Ready
Equipped to Win: 7 Strategies for  Dealing with the Deadly Seven