In Proverbs 6, God describes seven sins He hates, starting at the top of the human body and moving down: haughty eyes, a lying tongue, hands that kill, a conniving heart, feet that rush into evil, a false witness who pours out lies, and a man who stirs up discord.
Then in Ephesians 6:12-18, God provides a set of practical tools we can use to battle those seven sins, which include the helmet of salvation, the sword of the Spirit, the shield of faith, the breastplate of righteousness, shoes shod with peace, and the belt of truth.
The belt of truth, cinched around the waist, refers to the same kind of accessory worn by the Romans as they went into battle. It protects the middle of the lower torso – the area that allows us to reproduce.
What Do You Reproduce?
We naturally equate reproducing with having children. Yet scripture points out that we reproduce our thoughts in our actions, behavior, and words: "As a man thinks in his heart, so is he" (Proverbs 23:7, NKJV).
God understands that we may struggle to reproduce truth in our lives. Our bent gives in to reproducing lies of our flesh or from the enemy. A big reason He gave us the belt of truth is to counter the false witness referred to in Proverbs 6. It is one of the seven sins God hates most.
Telling a Lie or Living a Lie?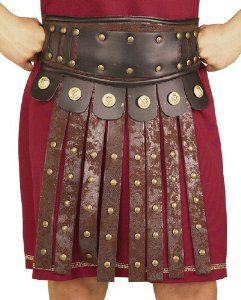 we think of telling lies, our minds naturally go to basic, one-time untruths: "No, I didn't take cookies from the cookie jar" or "No, I didn't spend more during the shopping trip than we agreed" or even, "Do you know what she did?" (when she didn't.)  Telling a lie is an active event.
But living a lie can be passive and happen nearly without notice.  A witness tells what he has seen or heard. By casually accepting a falsehood or passively skimming over it, a false witness denies the truth. He chooses instead to prevent access to the truth or avoid putting it into action.
A false witness can become so used to living an untruth that he doesn't know he's doing so. Proverbs 6:19 describes a "A false witness who pours out lies" (NIV), defining deception as a continual stream of untruths that brings others into a snare. In other words, a false witness lives a lie by being passive or by living in denial. The issue is further compounded because others are brought down by those untruths, too.
The Belt of Truth Does Not Deny
A false witness is subtle. Your thoughts, behavior, and words agree that agree with your flesh or the enemy are lies. By giving way to them or repeating what is planted in your mind, you deny what God has done for you. In doing so, you give permission to falsehood in your life and become a witness for it. You deny the power of the truth. You also deny God's transformation in and through you.
The belt of truth can protect you from reproducing those deceptive thoughts. As the belt encircles you, the truth can control you and hold you in check. Since the belt cannot deny the truth, it girds you to battle living a lie, allowing you to embrace and access what God has done for you.
When you put on the belt, you are equipped to face the truth … and more. You're equipped to live it out.
More on Winning the Battle
Winning the Battle, Part 5: Shoes – Slip Ons or Tie Ons?
Winning the Battle, Part 4: Don't Follow Your Heart. Really.
Winning the Battle, Part 3: Keep your Hands Full
Winning the Battle, Part 2: Do You Leave Your Mind Vulnerable?
Winning the Battle, Part 1: Get Your Gear Ready
Equipped to Win: 7 Strategies for  Dealing with the Deadly Seven