Sotha Heng: Multiplying God's Church in Cambodia by Equipping Godly Leaders
About Sotha
Left to die by the Khmer Rouge in the now infamous killing fields of Cambodia in 1975, Sotha Heng credits his miraculous escape and survival to God, believing he was protected for God's purposes. Nearly twenty years later, Sotha heard the gospel from a missionary at a church in Phnom Penh and accepted Christ.
Today he is Director of Church Planting at New Life Fellowship of Churches in Phnom Penh. Sotha leads a team of 14 evangelists, who are responsible for the growth and nurture of 38 churches and 100 outreach points in provinces throughout Cambodia.
When we visited Cambodia in spring 2011 (to bring the Spiritually Healthy Leader® workshops to these church leaders) less than 2% of the population was Christian. The majority are Buddhist, a religion of works without hope.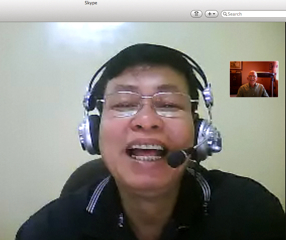 Since then we have maintained a coaching and mentoring relationship with Sotha, meeting with him 2-3 times per month on Skype to act as a sounding board and talk about strategies, his team, churches, and pastors in training, and special situations.
Because of Sotha's strength, fortitude, and spiritual wisdom, we often consider who might be the true beneficiary of our relationship.
Sotha's Story
My name is Sotha Heng. I am pastor of missions at New Life Fellowship. My job is to help leaders plant many churches in the provinces and towns throughout this country. Our evangelists and pastors are working hard to reach to every person in Cambodia and even in neighboring countries. Every one of them is committed to evangelizing, raising up more leaders, and planting new churches.
Yet even with that deep commitment, these leaders lacked knowing the basics of good Christian conduct. In 2011, Dalton and Vicki traveled to Cambodia to lead us in the Spiritually Healthy Leader workshop. The training helped us understand what a leader is, how to prepare to be effective pastors, and how to be a leader in Christ's church.
While it is essential to increase capacity by planting churches in order to lead other people to Christ, a Christian leader's character is also important to win people for Christ. As leaders, we need to set a good example for others and learn how to work together.
Because of the Spiritually Healthy Leader workshop, now our leaders know the right way to lead and to reach out people for Christ Jesus. The training helped them to model how to live to those in their churches. In turn, the Christian character modeled by members their congregations has affected the communities around them.
Speaking personally, the training and my regular coaching with Dalton has taught me two things: (1) the importance of guarding my own spiritual health through personal Bible study and quiet time with the Lord and (2) how to identify my own strengths and the strengths of those on my staff so we can work more effectively together.
On behalf of New Life Fellowship of Churches Cambodia, thank you for supporting this training and coaching and bringing it to us. May God bless you and prosper you in every way because you have invested in Cambodian leaders' lives.
More Stories from The Back 40
Sergey Kolinkovsky, Ukraine: From Communism to Christianity
Sasha Kolinkovsky, Ukraine: Once and Still Medical Doctor Turned Pastor